A Neat Kitchen- Feast for the Eyes
Kitchens are designed with love. Maybe that's the reason most of us get overwhelmed and overdo things. With an intention to add elegance, space, and innovation, many don't get the expected outcome and balance. Your kitchen space should reflect the idea of what it is to you, but at the same time, it is necessary not to let it look gaudy. Highly functional yet neat is the key to a perfect kitchen. Here are some clever tips you should consider before designing your kitchen.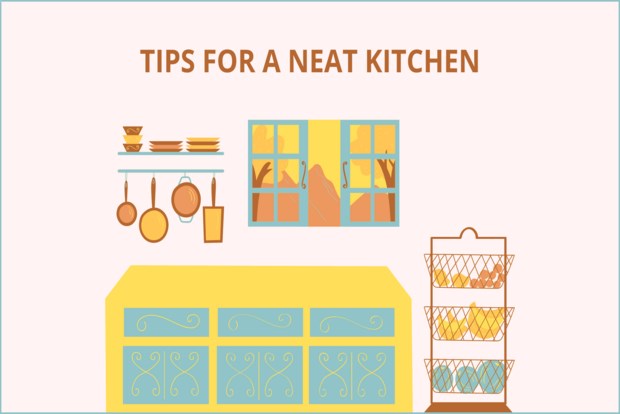 The Kitchen Working Triangle Theory
Have you ever heard of the kitchen working triangle rule? It is one of the oldest kitchen design theories recommended by many experts. According to the kitchen working triangle rule, if you imaginarily connect a kitchen's three most essential areas, it should form a triangle. The three most critical items include stove, sink, and refrigerator, but you can try replacing it suiting to your needs. No matter what layout you use, try following this rule as it fosters functional utilization of the kitchen space.
Pay Attention to The Layout
Choosing a suitable layout is crucially important. Famous designers and researchers say that the U-shaped structure is the most versatile design. It has three adjacent walls with openings, making it look sophisticated with a clever allotment of space. If you plan to have a big kitchen, consider using the island layout, which adds a luxurious touch by accommodating all the necessities. It gives you the freedom to wisely use up the space. A one-wall kitchen is the best choice if you are left with a small area. Have cabinets in the upper area and below the counter for a clean look. There is a range of layout ideas to consider. Consulting a professional will work wonders.
Cabinetry and Cupboards
Be conscious of where you place the cupboards; they should be easily accessible. The things you use often should be placed in proximity to the counter space. Considering this, you can opt for an open shelf above the work/counter space. Pull-out cabinets give a modern touch and fit in all the necessities perfectly. If there is a substantial left-over wall in the kitchen, you can install a ceiling to floor cabinets to store all your groceries and utensils.
Color Scheme
The color scheme accentuates the whole look of the kitchen. It is essential to pick a pleasant color palette. While mentioning color, it doesn't only mean the walls, everything, including appliances, contributes to it. The color of the cabinetry plays a vital role as it holds the majority of space. Countertops and appliances should be balanced out well for an elegant visual harmony. If you pick off-white for the wall, any color will complement well with it. Light hues of vibrant colors look appealing when matched with subtle colored cabinetry and appliances. Detailing of taps and cupboard handles matter, place them at the end of the list.
Your kitchen should reflect your vibe and look inviting. It isn't easy to decide every aspect of it. Why struggle? Hire professional kitchen interior designers and get it done quickly.