Wedding Series 1: How To Choose Your Mehndi Artist
The makeover is a huge part of any wedding. Right from the dress, to the accessories, to the make-up everything has to be set right for perfect wedlock. Wait, did we miss something in this? Yes, the Mehndi. When it comes to the makeover section, Mehndi service tops the list.
May it is a wedding photoshoot or the long-awaited dream Mehndi function, the design in the hands with a professional touch is definitely going to grab every guest's attention.
Let's see the top 5 things that one should be looking out in a professional Mehndi service provider.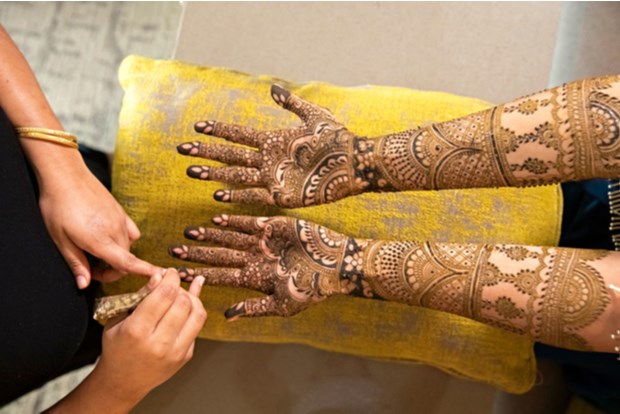 EXPERIENCE
The foremost thing that defines a professional Mehndi service provider is their experience in the field. Check how many years your service provider has been in this field. Also, check the reviews and ratings of the previous customers.
SERVING AS PER NEEDS
In a wedding, the Mehndi services can be broadly classified into bridal Mehndi and guest Mehndi. While booking a deal with the service provider, all the needed services can be explained. Check if the company serves the number of guests for whom the services are requested.
AMPLE NUMBER OF DESIGNERS
The number is another important factor that one should watch out. Mehndi design can easily drain one's energy and so it requires more designers according to the guests. See if the Mehndi designing company has ample amount of workers.
PORTFOLIO & DESIGNS
Before a deal is made, ask the service provider to bring their portfolios and check out their sample designs. Discuss the preference of designs for brides and for the guests, as well. Ask the designers to draw sample designs for some of the family members. More than digital printing, rely more on the hand-made designs by the designer.
ASK THESE QUESTIONS
Once you are happy with designs, further these questions can be asked:
What are the latest Mehndi designs?
What are the different styles of Mehndi designs?
Can you do portrait designs of the wedding couple?
What are the different intricate designs?
Can you replicate exact images of the bride and groom?
Can you draw designs that are in trend based on suggestions?
Big day is nearing? Then without further delay visit Sulekha, the fast and free way to get experts. Get connected to expert Mehndi Designers in your locality.